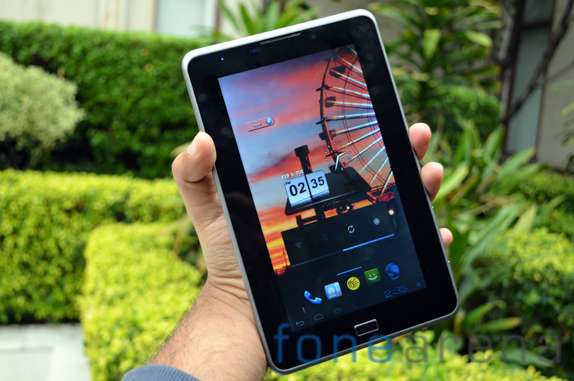 Guy's, This Tablet about which I'm going to review in this Post is one of the Cheapest Tablet in market with Lots of Advantages and Some Little bit Disadvantages.
In This Post I would like to talk about Disadvantages more than Advantages unlike other Post on Internet.
Actually, Few Days back, I have purchased it and using since then. But I wanna say that It's not what i thought , I mean performance is not so Impressive according to the provider Hardware.
There are Few Points I wanna Discuss about my Tab in very sort and I am sure that the point i am going to tell you, will play an important roll in Decision of your's to Purchase it or Not ?
1. CPU and GPU
This Tab come with Cortex A8 Next Gen. Processor and a GPU
GC430 3D GPU Graphics
. But Games Like Subway Surfer and Temple Run Oz not able to run so Impressively.
When You will run this Device on Your hand. I am sure that you will have a little bit loose Operation. First time, I operated it and It makes me Feel Like something is lagging. I don't know whether It was some Graphic Issue or Some hanging Problem.
2.Battery [Take More Than 4 Hour to Charge Completely]
This Device Got 3200 mah Battery and It take around More than 4 Hours to Charge Completely and Also Get Discharge so Quickly.
According to Me, Battery is not so Impressive. You will alway have some trouble with Battery if you are Going to Purchase it.
3. 1 GB. RAM is Big Enough
There is one impressive thing about this Tab, Which is RAM. No matter how many apps you are running Simultaneously, your Background Apps which is in running state, will never Close automatically Due to Less Memory.
List of Apps, I have Operated Simulanteously
Temple Run 2
UC Browser
Opera
TT POD
Ebook Reader
4. No Google Play Store
If you are Going to Purchase it.. Then You should have known that this Tablet Doesn't have Google Play Store by Default.
But, This is not a Big Deal Because. I have Installed it Manually and you could Do same. I will post, how to Do that soon
I hope You would have found this Post useful. and If you want to ask about This Tablet ...Then Leave a Comment Below.